Enzymatic and Mechanical Cell Disruption Treatments
Combinations of enzymatic and mechanical cell disruption treatments have been used for recovering the intracellular PHAs [[1]]. Bacteria contain a significant proportion of their biomass as DNA, a jelly-like polymer, and disruption of the cells releases this DNA in the cell homogenate. Therefore, the homogenate can be quite viscous and difficult to process. Thus, enzymes such as benzonase (a commercial nuclease) may need to be added, for example at a concentration of 10 μL/L cell broth at pH 10, to reduce viscosity by digesting DNA and ease processing through certain mechanical cell disruption devices [[1]]. In some cases, the PHA pellet recovered from the digested cells has been further treated with ozone or peroxide to remove contaminants [[1]].
Supercritical Fluids
Supercritical fluids have attracted attention for PHA recovery [[2],[3],[4],[5]] (Table 1). Of particular interest is supercritical CO2 as it is inexpensive, readily available, does not leave behind a toxic residue, has a low reactivity, is nonflammable and has a moderate critical temperature (31°C) and pressure (7.29 MPa).
Supercritical fluids have been used to extract nearly 90% of the PHA in the biomass at purities ranging from 86% to 99% [[2][5]] (Table 1). A variety of other relatively less used methods of recovering PHA exist [[2]].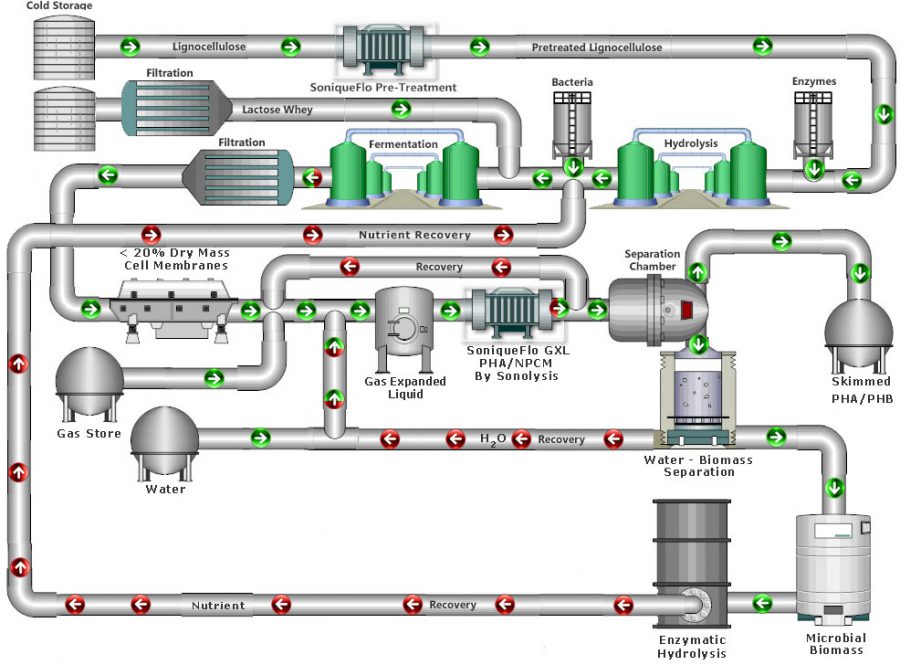 | | | | | | |
| --- | --- | --- | --- | --- | --- |
| Recovery method | Advantages | Recovery agent | Microorganism | Yield*(Purity) | Ref: |
|   Mechanical Disruption | Less use of chemicals; Reduced polymer degradation; |   Sonication, chloroform   |   Alcaligenes lata DSM1123 |   95% |   [6] |
| Enzymatic Digestion (with or Without mechanical treatment | Good polymer recovery; high purity; reduced use of chemicals other than enzymes |   Alcalase, SDS, EDTA   |   Pseudomonas putida |   90% (92.6%) |   [7] |
|   |   | Benzonase, Alcalase, lysozyme, Flavourzyme; microfluidizer |   P. putida PGA1 |   99.2% |   [8] |
| Supercritical fluids | Low toxicity; low cost; high polymer purity | CO2 | Bacterial Cells | 90% (99%) | [9] |